Sometime during this summer, we put feeders out for the birds. Unbeknownst to us, the seeds we chose were delicacies for pigeons. Not too soon after, a little family of the birds made a nest on our roof.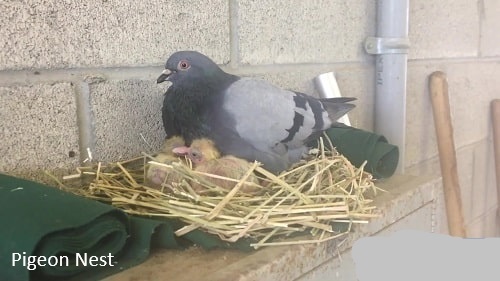 I thought this was lovely news but my lovely hubby was concerned. Turns out, pigeon droppings have toxic chemicals in them that, if ingested, could kill dogs. Hubby didn't want his baby hurt. When the pigeons stayed after their babies had left the nest, he realized these guys were settling in for the winter and set out to change things. The pigeons, he decided, had to go.
The only issue was that our new feathery visitors were quite happy with their new home. They had chosen a spot between two dormers that is sheltered from the rain and wind. They had constant food below and a beautiful view of lovely old trees to admire. They weren't going anywhere.
Round 1 consisted of my hubby trying out banging pots and pans near the roof. It made our neighbours come out and stare but the pigeons didn't even budge.
Having accomplished nothing with the banging but to look ridiculous, Hubby decided to bring out the heavy guns and bought a wind chimer. Apparently, the soothing sounds of wind chimes are incredibly irritating to pigeon ears and they fly away. Delighted with his cunning, Hubby installed the biggest wind chime he could find. Right under their nest.
The wind came and the chimes rang. And rang, and rang. And nothing happened anywhere in the neighbourhood. Day after day, Hubby peered up into the roof to find our unwanted guests snuggled together, as happy as could be.
Round 3 -Hubby decided to involve technology. He bought a machine that made a sound humans ears cannot detect but apparently scares birds. The contraption was massive, it took him an entire day to hook it up on our balcony and get it going but he did and he turned it on with delight.
Of course, we couldn't hear anything but Ocean did. She started howling at the moon, the sun and pretty much every celestial object in the sky. I had a headache spring up every time I stepped in the house but, otherwise, nothing else seemed to change. Certainly not the pigeons, who were still snuggled together on our roof.
Round 4 – Hubby bought a plastic ball that lit up when thrown and stretched out his throwing arm. The idea was that he'd throw the ball close enough to the annoying birds that they would leave and never return. The problem with this plan was that my hubby has many talents but accuracy is not one of them. The ball landed on the neighbours' yards, the street, our deck, our backyard but it didn't come even close to the pigeons.
Seeing the crazed look in my husband's eyes, even I took a turn at throwing the ball. I got pretty close. The birds did fly away…and returned as soon as the ball fell back to earth.
By this point in the war, it was winter. Every morning, on my way to work, I would look up as I left and see the two fluffy pigeons in their nook. Clearly winners of the war, they were not moving. I suggested to my hubby making them another home in our yard, one that would tempt them away from the roof, but my idea wasn't a winner. If they stayed, so would their droppings and that would still endanger Ocean.
Hubby started asking for help. He discovered that a lot of people have had unwanted feathery guests stay with them for a while and that it is really hard to discourage such guests. Everyone had advice but it went from the shocking to the ridiculous; someone suggested getting a pet eagle, another wanted him to build an electric fence on our roof…the most consistent one was to shoot them. But my hubby is a gentle man and he didn't want to hurt the birds.
Then, finally someone came up with the idea that he liked.
He was told that if he got an owl, a fake, plastic one, and installed it near the pigeons, it would scare away them away. Owls are natural predators of pigeons, the person explained, they'll be terrified of the thing.
My hubby went out and found a massive, plastic owl that terrified everyone, even him. Before the day was out, the thing was hanging from the roof right next to the pigeon home. And, sure enough, the pigeons were gone.
He was ecstatic. "He was right," Hubby grinned. "It terrifies them. They'll never come back."