Yes, those are my feet. You'll notice I'm wearing boots…and, more importantly, there's some white stuff on the ground around my feet.
That, my lovely, gentle reader, is snow. Snow. Yeap. Here. As in it was so cold we didn't get rain, we got snow.
In April.
I do have some better things to share with you though. Here, I took this picture a day before the 's-word' arrived.
That's the top of one of our evergreens. We planted them a couple of years ago and it gives me a ridiculous amount of pleasure to see them grow a little more each year.
See that lighter green bit at the top? That's where the new growth comes in.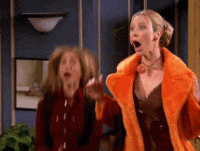 I know! It's so exciting! Love trees, love them!