If we were having coffee, I'd tell you that my hubby is about to leave for a week. An entire week without him is a sad thing so I've tried to explain things several times to our fluffy doggies. Each time, though, I've been met with licks and reassurances. They're not worried.
If we were having coffee, I'd tell you that the snow is falling thick and fast over here. No matter what the Groundhog said on that February day, I fear an early spring is not in the cards.
So how am I going to survive without my hubby for a week? Well, I have a plan with levels of need:
Level 1: The fluffies. My doggies are amazing at getting in the way, bothering me and basically making sure I realize I'm not alone. I have complete confidence in their ability to continue to do so.
Level 2: Books. I just did a bit of book shuffling and I now have credit at the used book store. One or two books will do the trick…
Level 3 (to be used only as a last resort): The bed. It's daunting to sleep on our big bed all alone. I might just have to invite our doggies to sleep with me. This of course will probably result in none of us getting any sleep, so it's a solution only for dire emergencies…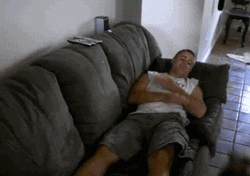 How about you? How was your week? Is it snowing over there?
A huge thanks to  Eclectic Alli for hosing Coffee Share and to you, my lovely reader, for reading!